Disposable gloves are an indispensable item in any healthcare or medical environment. However, what you might not have realized is that not all disposable gloves are the same. We'll explore what makes nitrile gloves different from latex gloves.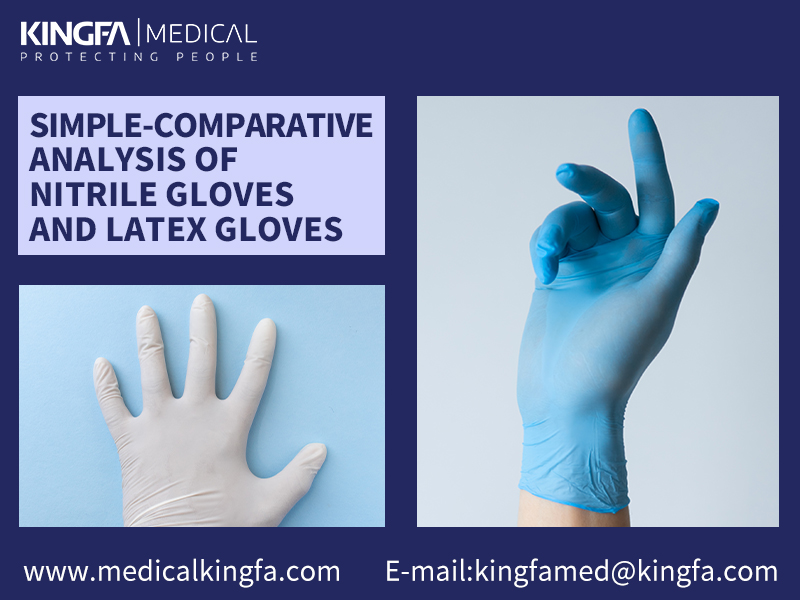 *Latex gloves
For decades, latex has been a famous star of the medical disposable glove world. However, as their popularity increased, so did cases of allergic reactions as they contain protein. This led to more demand for latex-free disposable glove alternatives such as nitrile. For those who aren't allergic, latex gloves are comfortable, relatively cost-effective, and offer a high degree of touch sensitivity. As long as latex allergies are not an issue, latex gloves are suitable for most medical environment.
*Nitrile gloves
While they're not as elastic or flexible as their latex counterparts, nitrile gloves are notably more durable and resistant to chemicals. As such, these gloves are the ideal choice for anyone who has to handle potentially hazardous and corrosive chemicals.
Nitrile gloves are also perfectly suited for most medical environments, being exceptionally puncture-resistant and eliminating the risk of latex-allergic reactions.
KINGFA MEDICAL provides you a wide variety of disposable nitrile gloves for a multitude needs and other PPE products.
Source: What's The Difference Between Nitrile, Latex, and Vinyl Gloves? (2021).